Founded over 18 years ago by Joel Leyden, Jewish PR has addressed almost every major issue challenging the Jewish world.


From anti

-

semitism in the United States and Europe to Islamic terror attacks in Israel, Jewish PR has been there.

When it comes to Jewish PR, Jews are among the most professional in getting the word out for others - for products and services.
Many hold respected positions in PR, public affairs and journalism.
But when it comes to articulating a position for the Jewish community or for Israel, we can do better.

The Jewish world is challenged almost every minute. Poverty at home and in Israel is a real issue.
Terrorism strikes Jews from the streets of Jerusalem to Paris, London and New York.
How we respond to these issues is critical. We failed in the 1940's.
We can't afford to fail again today.

Joel Leyden, began his career as a Jewish professional working for HIAS and UJA-Federation New York. At United Jewish Appeal Joel Leyden worked as both a professional and as a lay leader in raising millions of dollars for the New York Jewish community and for the people of Israel. Prior to working with Jewish organizations Joel worked as a journalist and graduated University with degrees in Journalism and Mass Communications.

Joel volunteered to serve Israel during several wars. Before making Aliya to Israel, Joel established Leyden Communications at New York's World Trade Center where he served as CEO of an advertising and PR agency.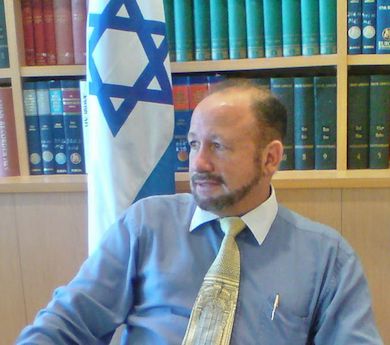 Joel Leyden working at the Israel Ministry of Foreign Affairs.



Joel moved to Israel with one objective - teach the Israelis how to use public relations and public affairs.

Not totally understanding Israeli culture, this challenging mission took a while. But Leyden was determined to break in and make good things happen. Upon entering the Israel Defense Forces, Leyden was assigned to a combat unit. Leyden was not required to serve in a combat unit and asked to give only a few weeks in basic training. But instead he opted for the hardest, most challenging assignment the IDF could provide - Handasa Kravit - the Combat Engineers.

After a while Leyden realized that their was an international unit working as a liasion to the United Nations. Leyden worked in this international unit for a few years until realizing that there was another international unit in the IDF in the Spokesperson's Office.
Leyden applied several times and several times was denied entry into this presitious unit. Finally after creating the first commercial Internet Website in Israel in 1995, the IDF Spokesperson's Unit wasted no time taking Leyden in to create the IDF Website and Cyber Unit.

Joel Leyden now used this door to leverage his other professional media skills for the IDF and Israel in writing soundbytes, coordinating the international press during special operations, coaching his fellow officers for media interviews and providing crisis communications strategy over many years.

Leyden oversaw over 1,200 journalists during IDF Operation Defensive Shield. In Bethlehem, under gunfire, Leyden held press conferences to illustrate Israel's efforts in removing Islamic terrorists from the Church of Navitity. He provided media coaching to all who would appear on TV for the IDF. Back in Tel Aviv, Leyden was on site during major media events including the tragic space shuttle disaster which claimed the life of IDF Col. and Astronaut Ilan Ramon. In New York Leyden covered the 9/11 terror attack for the Israel News Agency and back in Israel was on site for the Passover Massacre, getting the news out.



Joel Leyden soon found himself working as a senior media consultant at the Israel Ministry of Foreign Affairs. At the MFA, Leyden was responsible for training Prime Ministers, ambassadors and dozens of diplomats.

Recently, Joel led humanitarian disaster relief efforts on behalf of Israel providing fuel, food and generators to first responders and victims of super storm Hurricane Sandy in New York.

Reclaiming the Narrative

During one special IDF operation where Israel was once again placed on the media defensive for "hurting defenseless Palestinians" Leyden walked into the Jerusalem studios of CNN and BBC in uniform carrying a brown paper bag. He had a senior female officer take an empty suicide bomber's belt out of the brown paper bag while on air. "Everyone in this studio is now dead," said the officer. One could hear a pin drop. "This is what the operation is all about ... defending our civilian population," said the officer. The IDF now controlled the narrative and continued to do so throughout and after the operation.

Concurrently Leyden Communications Israel provided reputation management and crisis communications to a wide variety of commercial, non-profit and governmental organizations including Israel Flying Aid where Leyden worked off an electric generator in Haiti.

Leyden integrated basic media and marketing skills into the Internet, helping to form Web 2.0 and Israel's pioneering efforts in social media.

From providing Internet access to children on the Israel Lebanon border during IDF operations, to creating the first Website for an Israeli prime minister and the first English news site, Leyden was now teaching the Israelis how to use public relations and public affairs at the most potent levels.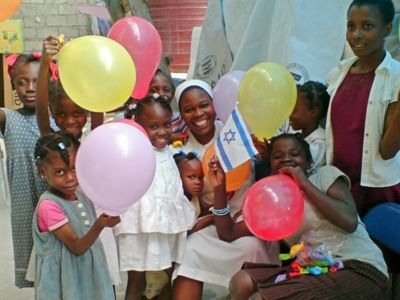 In Haiti, Israel's IDF turned tears into smiles. Jewish PR was there!

When the Iranians came out with the Holocaust Cartoon Contest, Leyden was there online making sure that anyone seeking to find this perverted contest would only find cartoons with the facts of the Holocaust inserted in them.

Joel Leyden recently created the largest group in support of Israel on Facebook with over 100,000 members.
A digital PR task that was recognized by CNN, TIME, FOX, The New York Times, The JC, The Jewish Week, The Jerusalem Post

and several other leading, global media outlets.


Digital PR and Public Affairs since 1995!


Joel Leyden created the largest, most respected online forum for Jewish and Israeli PR and MARCOM professionals with over 1,000 members on LinkedIn. His most recent contribution to the Jewish world was creating the largest social media forum in support of Israel humanitarian aid to Nepal - www.Israel4Nepal.com.



Today, Jewish PR™ continues to provide professional consultancy to a wide variety of Jewish and Israeli organizations.

Jewish PR provides a wide variety of media services that serve to inform, brand and educate.

These powerful branding services transcend the Jewish community - being seen and embraced by millions worldwide including diplomats, reporters, editors, the business community and the general public.